Sunday we took a short driving tour of Bangkok. It is hard to give a meaningful description of the trip since we saw so much but didn't get out of the car for pictures or even a closer look. It was a useful trip for us though, because it helped us get a feel for things we want to see, especially in the "royal" part of town where the houses of the kings have been built.
We saw Chinatown, several Wat's (temples) including the one with the Reclining Buddha, Marble Buddha, Emerald Buddha and the Golden Buddha. We saw "India town" where you can get all sorts of custom clothes made cheap. And we saw the largest flower market I have ever heard of.
We drove past the national museum, the Bangkok Zoo, the house that King Rama 1 through Rama 7 (except Rama V) lived in and then we saw Rama V's house (pictured here).
We also saw Rama IX's house which Fred (our driver) calls "My King" in a very charming manner. It's never "our King" or Thailand's King. It is always "My King." We asked Fred if he had ever seen the king and he said "Yes, when I was a boy I saw him at boy scout camp. It was a very long time ago." Never the less, Rama IX is still Fred's King.
There wasn't any talk or drives to locations for Kings prior to Rama I. Hmmmmm. I asked about the earlier kings and was told "Rama I coup"
This last pic captures a small bird being released outside the Grand Palace by a fellow seeking good favor from his god. Look closely to the right of the guy stooping down.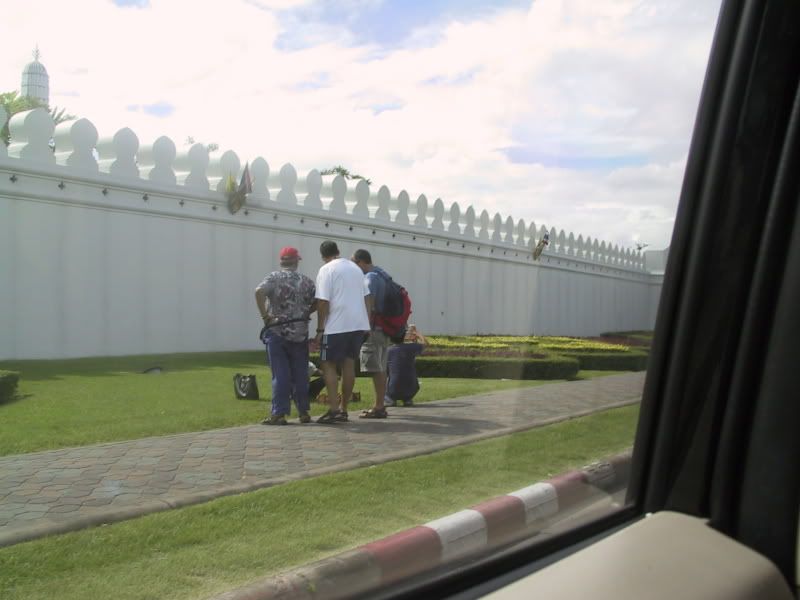 You can see the rest of my pics from Sunday
here.
oVo