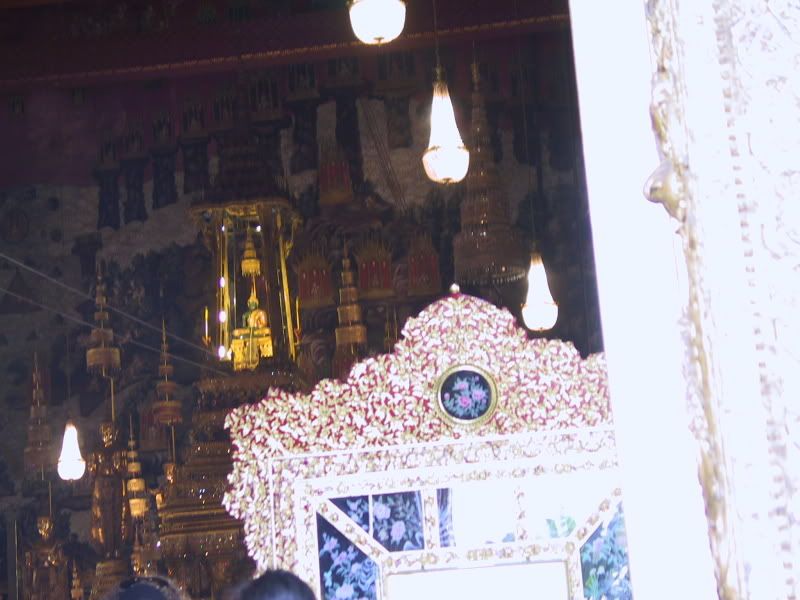 We took a trip across town to the Grand Palace today. We spent about an hour and a half walking the grounds and seeing many of the religeous areas, including the Emerald Buddah. Statues abound in this country and there is no shortage of folks to worship them, but the Emerald Buddah is one of the more famous ones here. The other big ones are the Gold Buddah and Reclining Buddah. We haven't seen those yet.
Photographs are not allowed inside the Wat (temple), but I managed to get this one after I left the building. Being 6 foot 5 inches tall has its advantages. I turned the flash off so I wouldn't disturb the folks inside and lifted my camera as high as I could to get the snap. The little green guy is the Buddah. He is about 40 feet in the air on a shrine and he looks very tiny from where we were. The statue is carved from a single piece of Jade, but I guess Jade Buddah doesn't sound as good as Emerald Buddah.
Take a look at my photo album
here.
We took about 30 pics today. Take your time and notice how ornate everything is. I tried to get shots of the buildings, but also some close shots that capture how much effort went into everything on this site. There are also some cool trees that have a black bark and are hard as a rock. They either grow slowly or they have been treated like Banzi trees. I don't know which.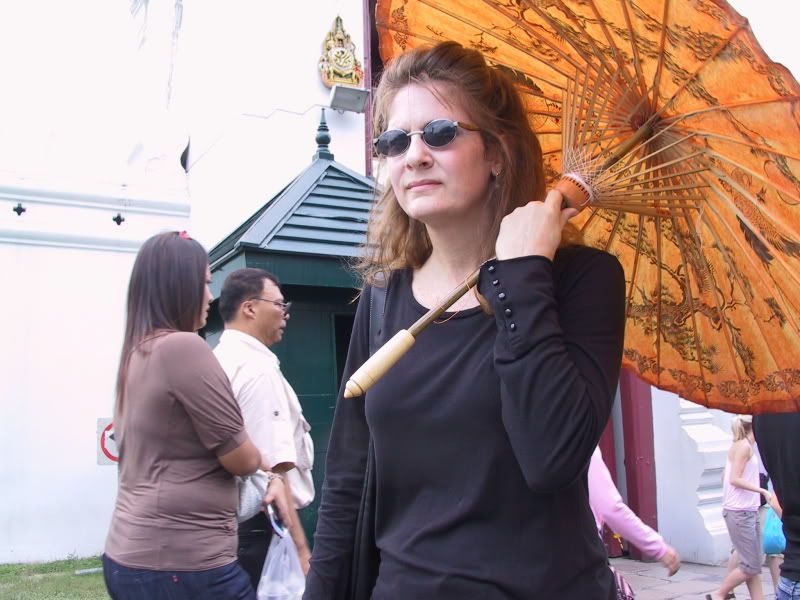 Finally as we left, Brenda saw some people selling bamboo and paper umbrellas on the street. She wanted one so I walked over and gave them my best "An Nii Thao Rai?" The little Thai woman sized me up pretty quickly and said "Ha Roi Baht."
"Ha Roi," I said. Then "Ha Roi" to myself as I tried to get the answer sorted out in my mind. And finally "HA Roi?????? No no no no. Mai Ha Roi" as I started to walk away. She wanted 500 Baht for this thing that I had figured at a humdred or so.
She quickly stopped me and said "How much you pay?' I said "Roi Baht, Neught Roi Baht" (100 baht - about $3) She said "OK" right before her daughter said "Roi Ha Sip" (150). I gave the lady a 100 Baht bill and she happily handed me the umbrella. Brenda loves it, and I'm enjoying being able to work out simple negotiations with these folks. It's fun.
oVo