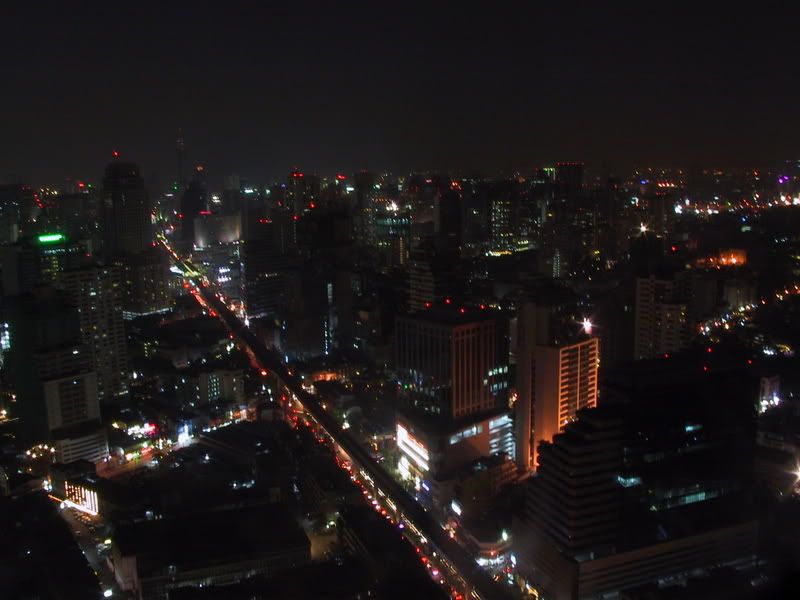 Another extrordinary day in Bangkok has come to a close. After leaving our Houston Home at 5:30 AM Friday morning we arrived at the
brand new Bangkok airport
last night (Saturday) at about 11:30 PM. Total Clock/Calendar time for the trip was right at 30 hours. After unpacking and getting cleaned up a bit, we hit the sheets a about 2:00 AM.
The new Airport construction was begun in 1960 and began recieving it's first flights DAY BEFORE YESTERDAY. Read that again. Don't just move on. Read that again. Forty-Six Years in the making, the new Bangkok airport is now open for business. WOW!
I was lucky and slept well on the airplane, so I awoke a 7:00 AM Sunday and left Khun Brenda in bed with a mild case of jet lag. I found
Calvary Baptist Church
about a mile away and enjoyed a morning Bible study and worship service with the flock here in the East. Nice folks. The church is smallish by our standards seating about 250 people. But they fill it up once with an intenational worship service to the tune of about 180 people each week. Then a couple of hours later, they fill it up again with 220 Burmese Christians. A few more smaller services for other languages also acrue each Sunday. I'd say they are doing a pretty good job.
After Church, I came back and found Brenda awake so we headed out to find some lunch and supplies. It took two grocery stores to fill our needs since the first one we found was a traditional Thai store and Thais don't eat cheese. Somewhere near 90% of Brenda's diet is cheese so we had to find a Farang store to meet that need. We finally did and stocked our paltry pantry.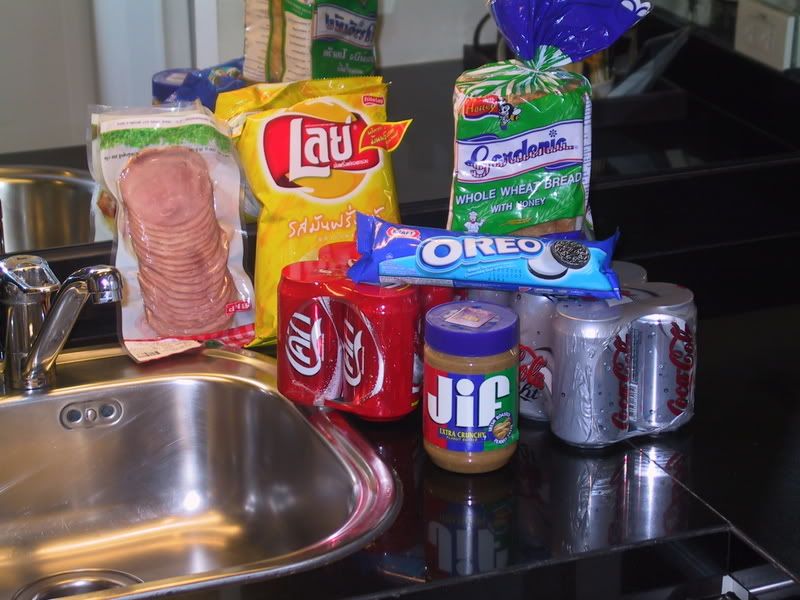 Along the way we took some pics that have been peppered around this post. The grocery pic is significant because it shows the LARGEST sizes of the staples we purchased today. The peanut butter had dust on the lid and is the size of a small jar at home. Notice the potato chips. Yup, that's the LARGE size. Sandwich meat... right... the big package.
Traffic is hard to capture in a still photo. How do you think I did in the pics showing Sukhumvit road on a Sunday evening?
And finally, the opening pic is the night scene out of our hotel window. Pretty huh.
Don't forget that you can click on any of the pics to see a larger version of it.
Also notice that I have put a link to the bangkok weather on the right hand side of the page, below the "e-mail me" link.
Y'all stay tuned, and let me hear from ya.
oVo