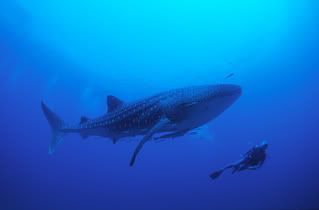 HA HA HA HA HA!!!!
That's about all I can say about Koh Losin. It is an island for sure, but not much of one. It is about 100 square meters in area (small) and maybe 3 meters above sea level at its maximum height at low tide. What a place. But thanks to it's location 100 Km from the nearest land, it boasts plenty of clear water and we were treated to 30+ meters visibility on our trip. Great water indeed.
We were all hoping to see sights like the pic here, but none of the big animals felt like coming around the day we were there. Still, it was a great dive.
I had some "not unusual for me" sinus problem during this trip. I picked up a minor cold a few days before we left. As a result, I was unable to clear my ears properly and the text books all say that when that happens, you should do the smart thing and just stay on the boat, or better yet, stay home. But I had been looking forward to this trip for two months, and the visibility was so good, I figured I could stay at a comfortable 5 meters depth if I needed to and still see alot of what was there to see. It turns out I was right on the vis issue, but by descending slowly, I was also able to reach the same depth as my dive group and see the sites up close. It just took a little while longer and I had to be more careful than usual.
To get to Koh Losin from Bangkok, we flew South into Hat Yai, and drove an hour or so to Songkla, TH to pick up the boat. The boat cruised about 9 hours through the night and into the morning arriving at Koh Losin at 8:30 AM Saturday. The tiny Koh Losin is approx 62 miles (100 Km) East of Naritiwat, TH. The island houses a small light standard to warn off ships.
I was very pleased when I entered the water and put my face down to clearly see the 26-28 meter bottom from the surface. We spent the day in this area and planned to make a night dive at the nearby Losin Pinnacle, but a squall blew in and cancelled those plans, so we just relaxed on the boat and cruised toward our dive site for the next day.
Overnight we steamed to a large bay near Naritiwat, TH. Naritiwat has been plagued in the past few years by violence in the Muslim community. We stayed well offshore and in a fleet of 4 dive boats, presumably for safety. In the morning we made a quick trip south about 15 minutes to Lopi, a 24 meter site with poor vis and moderate current. We saw lots of small life including a resting lion fish and several large parrot fish. During our efforts to photograph the life, our dive group swam out of visibility so my dive buddy and I just kept poking around on our own. Most of the group got stung by small jellies on this dive, including me. No big deal. One more thing to say I've done I guess.
The Second dive of Sunday was the most enjoyable for me. We moved toward shore just a few dozen meters to an island larger than Koh Losin, but not named. At this site there was little current and lots (LOTS) of life from small to medium sized. We found a beautiful Blue spotted ray at this site, along with the Nalopeon Wrasse, a cool nudibranch and some bigger fish. This was my favorite dive of the trip.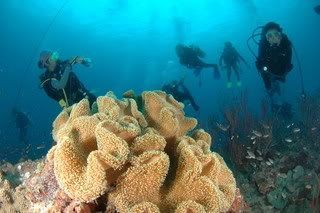 The Third dive of Sunday was a couple of hours back to the Northwest at "Train Bogey" a 28 meter site made up of about 9 rail cars sunk there in 2001. My dive buddy split off on his own causing me some concern as I was still having problems descending as fast at the rest of the group and by the time I got to the dive depth, I could not find him. I spent most of this dive looking for my buddy, but finaly decided that he must have had camera problems and returned to the boat becaues he had told me that he did that anytime his camera enclosure showed signs of water intrusion. I was not right, but my buddy was OK and had just decided to make his own dive instead of complying with normal buddy protocol. As for myself, I was still plenty safe as I maintained close contact with the larger group so the only real risk was to my buddy and he brought it on himself. I guess all is well that ends well.
Visibility was not good on this dive, but I could clearly see that the site had plenty of potential if you could get there on a day when vis was good. Nine rail cars sunk to the sea floor provides plenty of cool places for sealife to gather and thrive.
Koh Losin is a good trip, but for my money I would go back to Koh Tao instead of taking this airplane/bus/boat trip. I guess if we had seen some whale sharks, my opinion might be different.
oVo