We finally got out of Bangkok today for the first time. We took a day trip in the car about 160 KM South and West of the city to a town called
Petchaburi
(Pet-boo-ree.) Petchaburi is an ancient city with archeological finds dating to as far back as the 6th to 11th century, an era here known as the
Dvaravati period.
The drive took us about two hours, but after one hour of driving, I was really pleased and surprised to see a small mountain range in the distance. Petchaburi is near the coast on the Gulf of Thailand, and I sort of expected a coastal plain, which I got. But near the coast, the mountains were pushed up by all those geological forces that I know nothing about, but which can apparently do some serious reconstructive surery to the landscape. These days, the mountains are heavily treed, and where the rocks peak through the brush, you can see that they are eroded by rainfall so they must be a soft rock like limestone. There are caves in the area too, accorcing to the literature.
Once we reached Petchaburi, we got out of the car to climb
Khao Wang
(Palace Hill.) The hill is a sort of three peaked formation on which has been built a complex that includes one of the summer palaces of King Rama IV dating to the early 1900's (the current king is Rama IX.) It also includes defensive battlements as well as quarters for an army contingent, royal halls and temples. The tallest structure is a huge white pagoda that should have a budda in it, but the Budda was missing today. Now where did that statue get off to?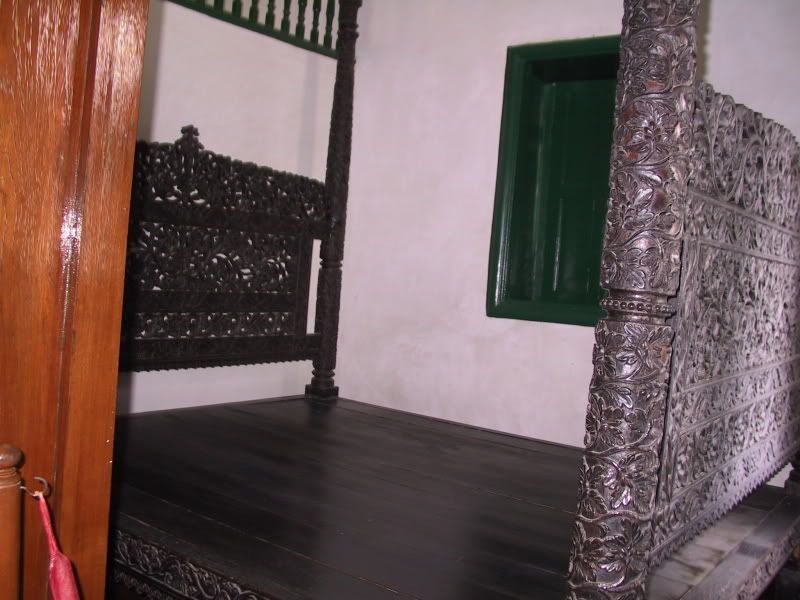 We were a little surprised that the summer palace was not more oppulent. It was gives a pretty similar impression as an antebellum home in the South US, except of course for the distinctive Asian architecture. I think I was expecting larger fancier and more "over the top" sorts of design from a royal palace. But then again, this was just a summer home. Maybe like a beach house in Galveston? The photo here is the King's bedroom. Notice that it barely has room for the bed.
After wandering around the palace complex for an hour or so, we headed back down the not inconsequential hill top to find lunch at the nearby beachside resort town of Cha-Am.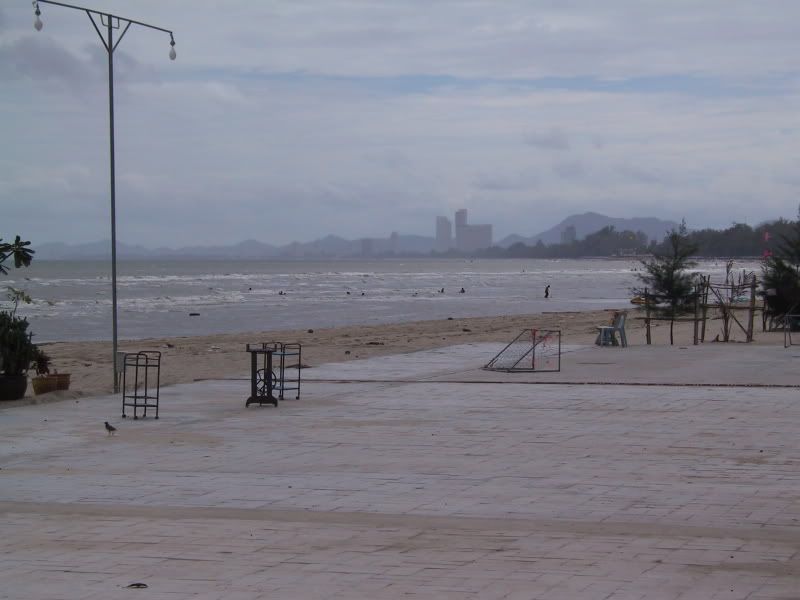 Cha-am's waters are much like the Gulf of Mexico being a light chocolate, or coffee with cream color. There were storms offshore today so the surf was churning, but that didn't give pause to any of the beachgoers that we saw today.
The sand is brown and more like dirt than sand. It actually supports a nice grove of trees right on the beach which gives a welcome covering of shade for the hot days of summer. It is the cool season now so it was only 94 degress F today. You can also see the mountains rising in the not far away.
Petchaburi and Cha-Am will not make it to our favorite destinations lists, but it was a nice day and it was really good to get out of Bangkok and see some of the countryside.
I still have not seen anywhere worthy of a motorcycle ride since the roads are all basically like our interstates, except much bumpier, more crowded and with a speed limit of 80 KM/H (50 mph.)
We took more pics today than I can do justice to here. Monkeys on the Palace hill, Cha-am beach, lots of shots of the hill top palace complex and some surprising looks at the small and steep stairways that these folks built only a couple of hundred years ago, as well as fish strips drying in the sun at the "Center of Thailand Deserts and Thia Food." You can poke around in my photo album for
today's pics
.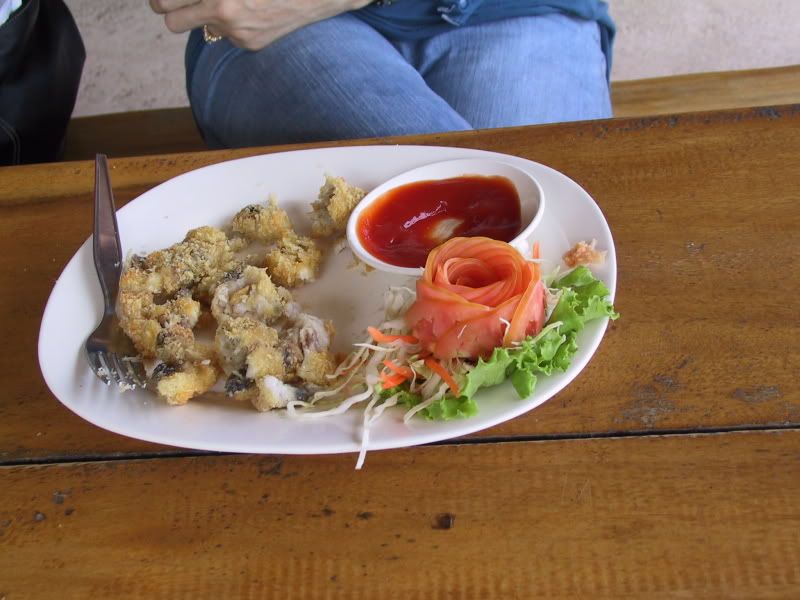 Oh, one more thing. I can't leave you with no food pic. Petchaburi is pretty far off the normal farang path. We were advised to eat only deep fried food today so we would be sure to avoid getting ill. This shot is of Brenda's plate when she was finished with her fried fish. It tasted very good, but I told her that the dark places (fish skin I think) were "fried fish butts" and she declined to eat them. Bon appetite!
oVo