We took in the night bazaar this evening. There are several, but the big one is adjacent to Lumpini Park and it's called Suam-Lum. Pretty nice. You recall that we have also been to Chatuchak weekend market, the world's largest open air market. Well Suam-lum is cooler (because it is at night) less crowded, and has better quality stuff. It has no plants or flowers, and no live animals (pets) but if you want Thai silk, clothes, a fake Rolex or fake Gucci purse this it your best bet. Seriously, if you are a family member and you get a Rolex from us for Christmas, it is real. I swear, it is real.
We had fun walking around for about three hours and in that time we felt that we saw most of the market. In any case the offerings are not as diverse as Chatuchak so even if we missed something we probably saw someting else almost like it. And once you get bored with the merchandise, the people watching is still a lot of fun. There were lots of Farang in various stages of aculturization. Most were answering the polite Thai merchant's greetings with "HOW MUCH IS THIS?" in a voice clearly too loud for the situation. It is obviously a well known fact that if you are talking to someone that does not speak your language, it helps to speak you own language
LOUDER!
We did well on the few items we purchased tonight. I am getting better at recognizing and using numbers in Thai and I have found a few phrases that reveal my vast knowledge of the Thai language. Of course I am kidding about that last part, but I did do well with the numbers and when I reacted to a high price with "paeng maak" (very expensive) the combination of my flawless Thai and the pained look on my face invarably resulted in a lower price..... and a giggle from the Thai.
I hope you are all enjoying your Christmas shopping as much as we enjoyed the market tonight. It is still 90+ degrees here every day so I think our hopes for a white Christmas may be dashed. Never-the-less we are thankful that this time of year is set aside to celebrate the birth of Jesus who loved us before we knew Him and came to die that we could live.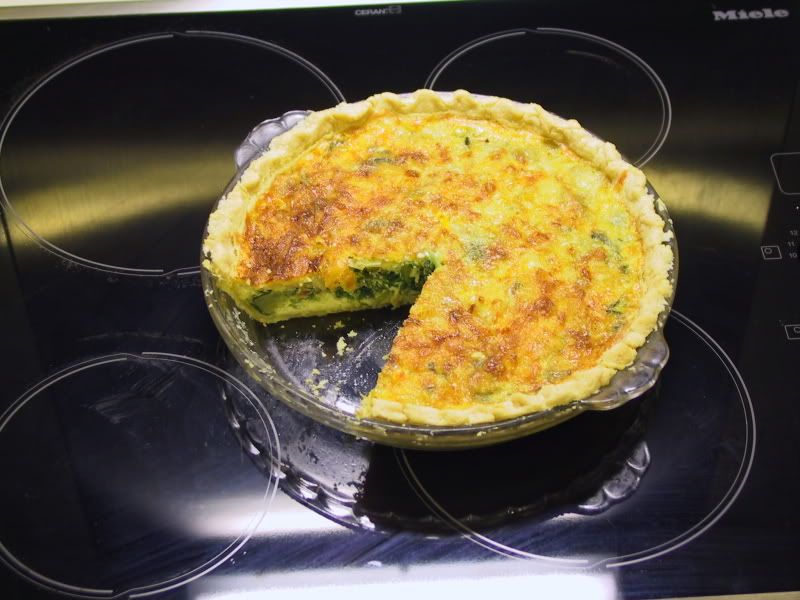 Before I go I wanted to let you see the "sup pen ak pie" that our maid cooked this week. Some of you may recognize it as quiche, but our maid insisted that it was "sup pen ak" pie. After three or four tries to get me to understand, she stormed over to the counter in a huff and grabbed a handful of fresh spinach (sup pen ak) and waved it at me like a green fist. Communication remains a daily challenge here, but the pie is always good.
oVo