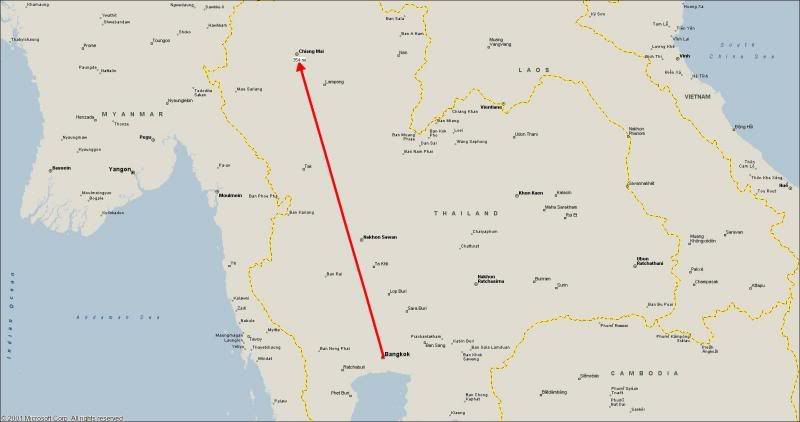 Chiang Mai is about 400 miles North/Northwest of Bangkok. Wednesday morning we hopped on a Thai Air flight and voila, an hour and about $200 later we hopped off at Chiang Mai International Airport. A few Baht after that, we closed the door on our cab at the River Ping Palace, a genuine antique (about 150 years old) Teak House situated on the banks of the River Ping, just south of the city.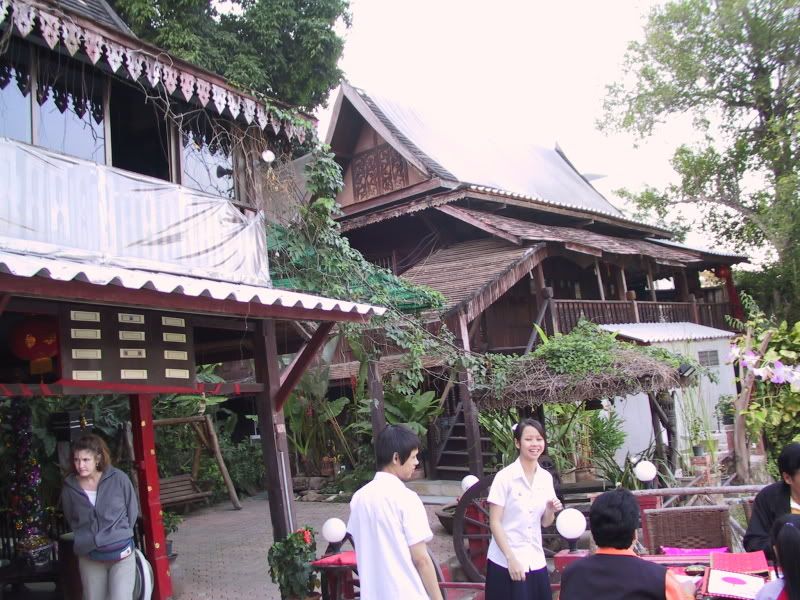 If you have ever stayed in a bed and breakfast type lodge, you know that they are unpredictable in their "atmosphere." The Palace is no different. Being an old teak house built in a country without meaningful building codes, we were not surprised, but we were concerned when climbed the slightly off-kilter stairs and entered our darkened room at about 2:00 PM. Was that sunlight streaking in from the many (many, many) cracks, gaps and outright holes in the walls and ceiling? Did I say ceiling? I'm sorry, there was no ceiling, just a roof, a teak roof that glowed in spots as the wood had merely deteriorated in some spots allowing a sort of back-light affect. We were thankful as we realized that we had arrived during the dry season, but our imaginations wandered to the monsoon season each time we caught a new glimpse of our perforated shelter.
Our adventure continued to mature as we listened to the conversation in the next room as if we were looking the speakers in the face. That acoustical magic played out over and over as guests arose in the morning or settled in for the night and continually as the traffic roared by on the main road just outside the Palace's property lines. From the sound in our room it seemed that the traffic was routed just past the foot of our bed. Honestly it seemed less like the other guests and trucks were audible in our room, and more like there was an amplifier piping the sound in at higher than realistic decibel levels.
But since lodging in this B&B is apparently intended to stimulate all the senses, it was necessary that something be done for the tactile sense. What could be better than floor joist framing intervals that allowed each step made most anywherer on our floor to be transmitted directly to our bed frame resulting in a step wise undulation whenever any guest moved about their room. Not just when Brenda and I moved around, but when ANY guest moved around ANY room. Ahhhhh, what a relaxing time we had. On the morning after our arrival I joked with Brenda and some fellow guests that "it takes all night to get a two hour nap here."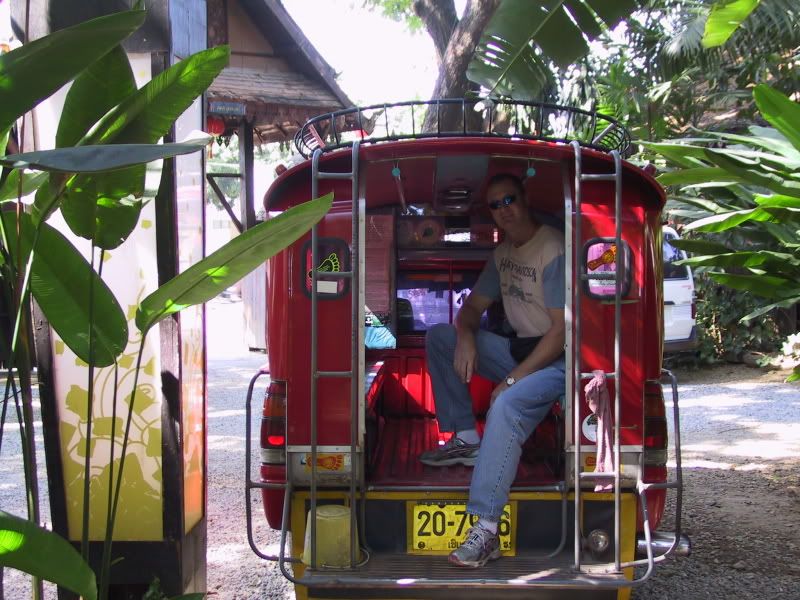 But these accommodations, lacking in fit and finish as they obviously were, almost faded into insignificance in the face of the service and other features of the Palace. The food was more than excellent. It was superb. And it was prepared and served with the utmost care by the proprietor and staff who paid close attention to our preferences. The first question that our host asked when she met us was "Is there anything you don't eat?" I responded with my now trusted "Faces and Feet" disclaimer while Brenda mentioned curry. As a result I can report that none of our dishes featured faces, feet or curry. Quite an accomplishment in this part of the world.
The written menu was complete with offerings of fish, fowl, pork and beef, but the best choice was usually something not on the menu that happened to suit the taste of the owner and chef. "Whatever is good and fresh" seemed to be the driving force behind the culinary decisions at the Palace and none of us were disappointed with the meals and snacks that seemed to appear organicly rather than as a result of a request. And as noisy as the rooms were, the outdoor dining area was surprisingly quiet and peaceful, and a fine place to dine, relax and chat with fellow guests. Well, enough of the Palace, on to the trip.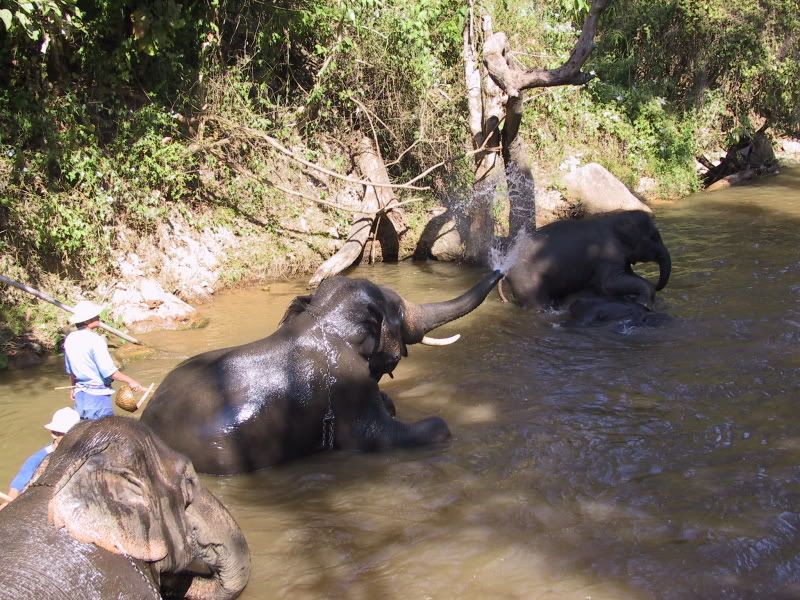 On our first full day we headed up country to the Maesa Elephant Camp where more than a dozen elephants ranging in age up to about 36 years old live and work with their full time mahouts (trainers/caretakers.) Brenda and I are a little leery of these animal shows since they can easily succumb to poor conditions and suffering animals, but Maesa has proven itself over years. Each elephant has its own individual mahout who is completely responsible for the animal's well being. The elephants seemed happy and as if they enjoyed their "work" entertaining tourists in three shows daily. Each show is preceded by "bath time" which was clearly "play time" in the river that flowed along the property edge. After the bath, the behemoths did tricks, played soccer and harmonicas (not at the same time) and painted original works of "art." These guys and girls are pretty serious about their art. Maesa holds the Guinness book of Records title for the largest elephant painting in the world. Each show ends with a crew of four Goliaths stacking a wall of 20 meter long half meter diameter logs by working together as a team. Impressive. Take a look at
http://www.maesaelephantcamp.com/
for more about this special place.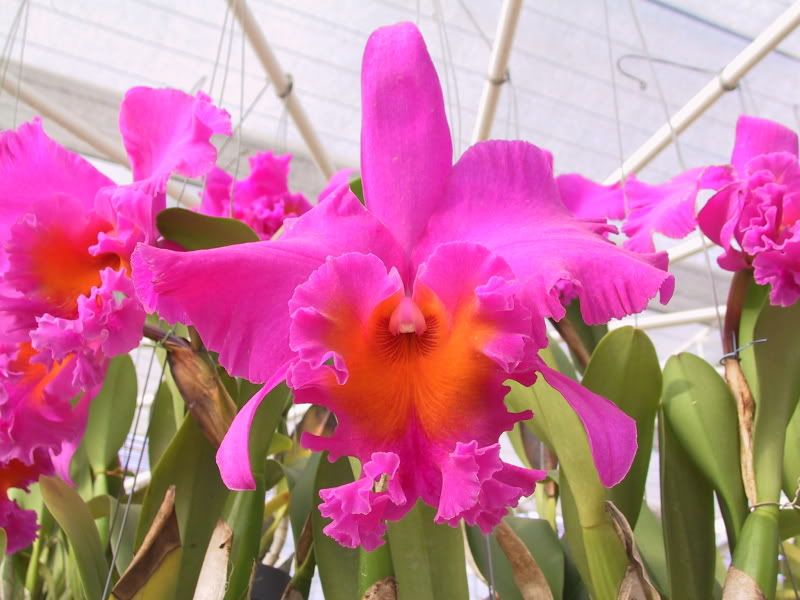 We also took in the
Royal Flora Show
, which covers over 5 acres south of the city with floral displays from 30 nations on five continents and contains more than 2.5 million plants. You will see from my pics that my favorite area was the orchid pavilion. Spend some time looking at these
flowers
. They are amazing.
Each town in Thailand has a night market and we visited the Chiang Mai market on our first night (why not, we couldn't sleep.) It seems like they have pretty much the same stuff at all these markets, but they are fun and provide endless people watching opportunities. I get to practice my limited Thai language skills and sometimes we find a bargain or an unusual item. Take a look at Brenda's "antique tea pots."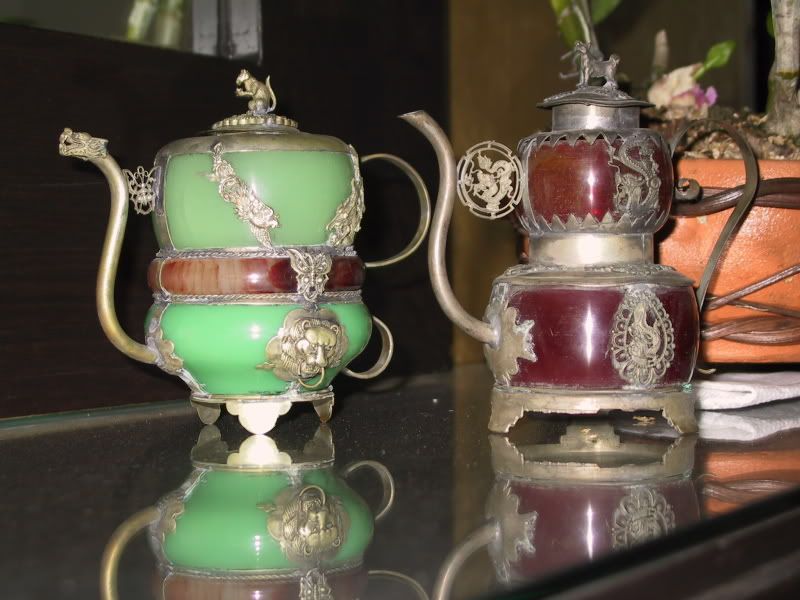 We also took a night cruise on the River Ping which included dinner aboard a teak long-boat and we were particularly pleased to be able to enjoy that trip with two of our friends from Bangkok who were also in town (but not with us) and two new friends that are here on a "no reservations" vacation from Canada.
You think you are adventurous? HA! Our new friends, Mike and Stacy got on an airplane headed toward Bangkok from Edmonton, Alberta with NO RESERVATIONS for hotels anywhere in Asia and they did it in the PEAK TRAVEL SEASON. I'd call 'em crazy except that they were having such a good time bouncing from one hotel to the next as rooms became unavailable here and available there, that it seemed like a completely reasonable thing to do. And as we got to know them we soon realized that this type of trip isn't even all that adventurous from their perspective. Mike has over 2400 skydiving jumps and he and Stacy used to own and operate a skydiving and bungee jumping operation in Canada. Now That's Crazy!!! Just kidding Mike and Stacy (but not really.) We are looking forward to Mike an Stacy stopping by to spend a night or two with us when their adventure nears its end around January 5 as they mosey through BKK headed back to the frozen North. When we left them today, they were searching the internet for a place to go next. Wonder where it will be?????
So what's our take on Chiang Mai and our "Christmas Trip?" In spite of getting almost no sleep (did I mention that each of the bed springs in our mattress left a separate and semi-permanent indention in our backs?) we had a really great time. Some of the credit belongs to the hospitality at the Palace, some to the exotic locale and a heaping helping belongs to the friends that we met and made on this "Interesting" mid-week break.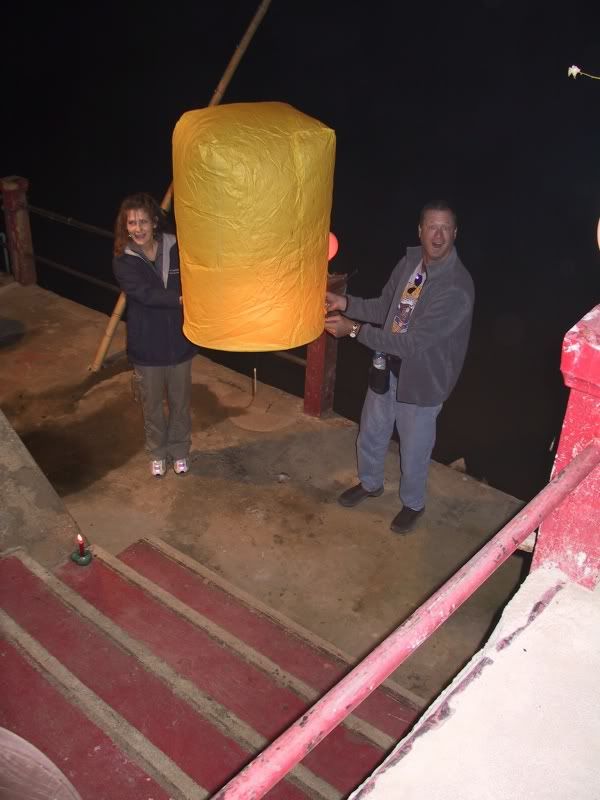 This last pic is me and Brenda setting our fire balloon free. It's supposed to make wishes come true and such, but for me it was just cool. There is a sort of half toilet paper looking roll that we set on fire and the hot air propels it up pretty high. There are a couple of pics of it leaving in my
photo album
so check it out.
oVo