Disclaimers
1) This is not a Motorcycle post
2) I have never been on a backpacking trip before this
3) This was the coolest trip I have ever been on - also the hardest
The Cirque of the Towers is located in West Central Wyoming, in the South Wind River Range. The nearest towns are Boulder, WY (pop 737) and Pinedale, WY (pop 1382.) The Range is approximately 72 miles North to South and we hiked the lower quarter of it. It is a relatively low section of mountains, with the highest peak hovering below 12,500 ft above sea level. Despite its diminutive stature, it is very dramatic. My impressions of the Rockies, the Appalachians and the Smokies is similar in that you never seem to get close to the mountains. By that I mean that by the time you get close to the mountains, you are in them. And like the Forest that you cannot see because the trees are all around you, I have never felt that I could see the mountain close up.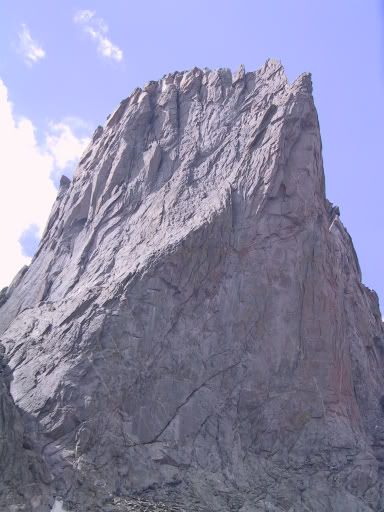 The Wind River Range is completely different. You can stand at 10,400 feet and literally touch the side of a peak that towers to almost 12,000 ft in the distance of 1/4 mile. And these peaks are not here and there in a haphazard fashion. They are everywhere you look. Pictures don't do it justice, and neither do my descriptions. It has become a habit while on a trip to think about how I will describe what I see in this BLOG. Believe me when I say my words will fail to convey the majesty, the difficulty, and the wonder of this terrain. If you want to understand what I have seen, like certain motorcycle brands, you will just have to try it yourself and then you'll see.
Our route started at the Big Sandy Campground, 50 miles from the nearest town, Boulder WY pop 737, and 39 miles from the nearest pavement. It takes about 2 hours to drive the 50 miles from Boulder because this road is not well maintained.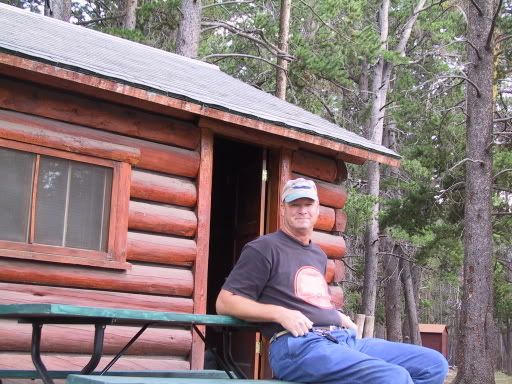 We arrived on Sunday and slept fitfully on the lumpy mattresses that brought a rush of memories of junior high summer camp. In the morning, after a wonderful breakfast, we took our first steps on an impromptu day-hike that was intended to give us a flavor of the trails and test the strength and endurance of the newbies (me.) What was intended to be an easy day of about 8 miles and maybe 600 to 700 ft of elevation gain ended up as a 14 mile endurance contest to 10,000 ft above sea level. Everyone, including the newbie handled it well though and it ended up as one of those "I can't believe we just did that" events. There would be more.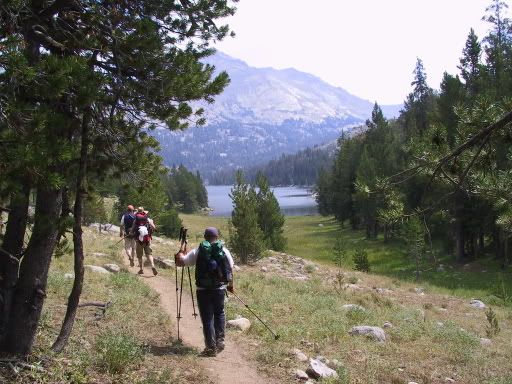 Dinner and another fitful night brought us to the moment of truth, the moment when we would step off onto the trail with only the equipment and provisions that we had the foresight to pack into our bulging backpacks. Mine was the heaviest at about 58 lbs. The lightest was about 40 lbs. Just so you'll know - 40 lbs is good, 58 is bad.
Day one on the trail was benign until two minutes into the walk when it started raining. Nothing bad, just a drizzle that brought out all of our rain gear and made me think something along the lines of "now I'm a real mountain man." Just so you'll know - I'm not. It rained steadily, but gently all day. We made 7 miles and gained 1000 ft to make camp at Donald Lake. Upon arrival, we were cold, and damp. We all wanted a camp fire but of course the dead wood on the ground was all wet. Carl managed to get a fire going and we gently heaped the driest wood we could find on it until it was strong enough to dry the wet wood and survive more or less on it's own throughout the evening.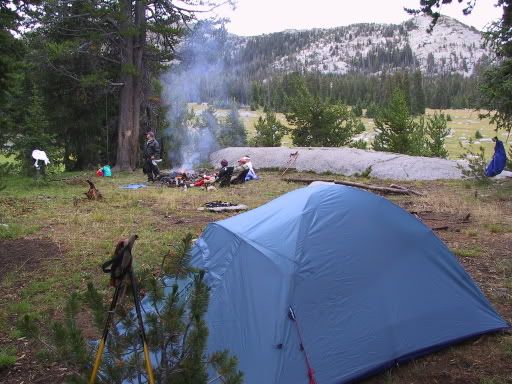 Now about that 1000 ft gain in elevation.... I am a sea level sort of guy. I have pretty much always lived in the Gulf South. So, anticipating that I might have some trouble in altitudes, I had begun training in May by walking 3 miles one day and 6 miles the next. I began this regimen with a rucksack (school type backpack) packed with 35 lbs of sand. By July I had packed 55 lbs of stuff into my actual backpack and was walking my routes with the pack on my back and 5 lb weights on my ankles. Nothing was going to keep me from having a nice walk in the mountains. I fully intended to be in shape and ready to go by August 1... I wasn't. By the time we made camp the first night, I was wiped out. While the other guys went to filter water and catch fish, I rested my burning thighs and exhausted arms. My training had let me down.
For dinner we re-hydrated our "Backpackers Pantry" dehydrated dinners around the camp fire and rested up for the next day. Carl and Severin had caught some trout that I was too tired to eat. Though tired, I was absolutely thrilled at my surroundings and the trip so far. I was having a ball.
After a nights sleep (38 degrees F inside my tent, 28 degrees outside) and a warm breakfast of instant oatmeal, we set out again on the trail. We had to descend from 10,100 ft, to 9,300 ft and back up to 10,300 ft to camp at Shadow Lake. Shadow lake is so named because it is situated in the shadow of the mountains that make up the continental divide in this part of the country. It is easily the most beautiful place any of us camped on this trip. It is two miles off the main trail but completely worth the walk.
Now, about the walk to Shadow Lake. It was eight miles and gained over 1000 ft in elevation. Not that much different from the previous day except that as it turns out, to gain 1000 ft (the height of a 100 story building) you actually gain and loose roughly 3000 ft total. That is, you go up and down, and up and down.... A lot, and with 50 lbs in the backpack. This day, we also had to negotiate Hailey Pass which took us from 9800 ft to 10,200 ft in less than a mile. No matter how it sounds, that's steep.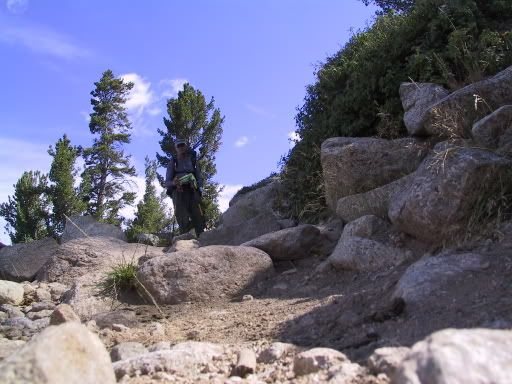 By the time I got to camp, I had decided that the next three days were beyond my capability. I decided to head back to the trail head while my companions went on across Washakie Pass (1400 ft elevation gain) and traversed Lizard Head Trail (1000 ft gain) and finally Jackass Pass (1300 ft gain.) Lots of discussion resulted in the plan for me to return to the trailhead and rest up. If I felt up to it, I'd meet the guys on their last day somewhere near Jackass Pass headed back down to the trailhead. The trail that the guys took North is in a Dashed line on the trail map.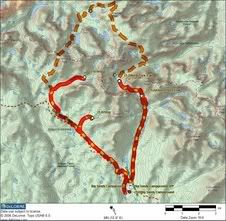 I did feel better by the last day of the scheduled hike and ended up meeting the guys on the trail about 7 miles North of the trailhead on Jackass Pass Trail. I brought water and chocolate from town, and after a brief visit with the guys, Carl offered to accompany me as I continued North to Arrowhead Lake, the Continental Divide and Lonesome Lake. That last day, I hiked 18 miles and gained over 3500 ft in elevation in a single day.
In total, whether by the original route or my modified hike, we all walked 41 miles and gained between 9000 and 9500 ft in elevation. We crossed the continental divide twice and saw some of the most dramatic landscape that I have ever encountered. A completely satisfying trip that I can't wait to do again next year.
I have a hundred or so pics of this trip. Some of the most representative are located at
my album.
Select Cirque of Towers and enjoy.
oVo