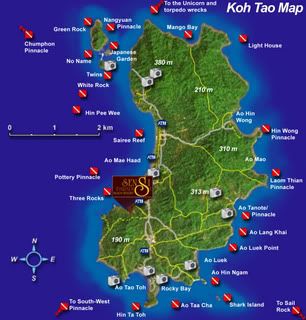 What a great dive trip! Koh Tao is pretty isolated in the Gulf of Thailand but the island and it's surrounds has over 25 named dive sites and we were lucky enough to hit one of the best on an exceptional day.
Chumporn Pinacle is a site that has a beautiful reef starting at about 15 meters and having a vertical drop off to 40 meters. All alo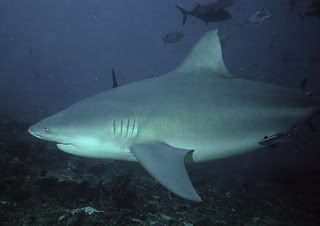 ng the vertical drop are different species of sea life. And patrolling the outskirts for careless animals (and/or divers) on the day we were there were some ominous gliding shadows that were clearly identifiable as Bull Sharks. I felt pretty secure because the sharks generally stayed below 30 meters, and usually at least 15 meters away from the reef. Our dive group was 20 divers and there were also three other dive boats at the site the day we were there, so I was counting on being only one of maybe 60 potential meals for these guys too. As it turned out, we all returned to the boat with our fingers and toes in tact and having seen some amazing coral, anemones, a turtle and fish of all types. Such a good trip.
All in all we made 7 dives in two days at sites that went to 40 meters,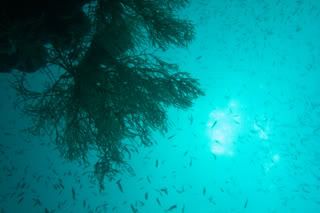 and a few places that only went to 10 - 20 meters. We had one night dive but the site was apparently not a night spot because we didn't see much activity. Most of us on that dive were doing some sort of certification that required a night dive using only a compass to swim away from the instructor and back to her without getting lost. Most of us made it!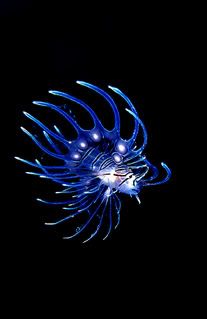 I don't have an underwater enclosure for my camera, but I am lucky enough to have friends who take pictures and let me have copies. My "above the surface" pics can be found at http://perfectloop.vox.com/ if you would like to look around. The two exceptional pics shown here were taken by Kuhn Nat, a professional underwater photographer who generously let me have these pics just because I liked them so much.
Can't wait for the next trip.
oVo