Thailand is loosely translated "The Land of Smiles." While it is not unusual for locals to treat visitors well while the visitors are in the tourist areas, we were pleased today to be treated exceptionally well by locals to whom we paid no money for goods or services. Just nice people on the street that stopped to answer our questions and pantomimes when we got lost or weren't sure what to do next. It was great.
We had no realtor or any other type of escort today. It was the first time since we've been here that we have been left completely on our own. We had a leisurely breakfast followed by a map session to figure out where to go and how to go there. We decided to make our way back to a couple of the top places that we are considering as our new home over here, just to see how they look without a realtor breathing down our necks.
We walked though a nearby shopping center called Central Market. After a bit of exploring there and a pizza, we headed to the street to find a cab that could take us to the sky train. We got turned around a bit and found ourselves in a paid parking lot with no way out. A security guard saw us and walked about 100 meters without being asked and pantomimed with us until he figured that we were looking for a cab. Within 30 seconds he had stopped a cab and asked where we wanted to go. I pointed at a map and he translated for the driver so we were off.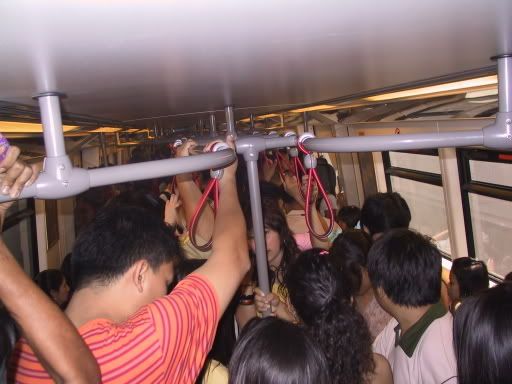 Forty Baht later (about $1.25) we were near one of our aparments and on foot again. We walked around, got the feel for the neighborhood and decided to go check another place clear across town. To do that, we wanted to ride the skytrain (BTS). Unfortunately we didn't really know where it was so an hour and three helpful Thais later we got to the station. For 35 Baht ($1) we rode pretty much completely through town to our destination. Take a look at the pic to see how attractive a $1 ride across town is here. It's not just the Farangs (foreigners) that find this mode of transportation convenient. This was a six car train and every car looked just like this pic.
We got out at Sukhumvit 31 and walked around some more, making our way to 555 Soi Sukhuvit 55, the address of Park Thonglor Tower in the posh section of town preferred by Ex-patriots. It is nice along Sukhumvit, and expensive, but we think we will probably end up living in this section of town. We tried to make ourselves comfortable in a more Thai area of Bangkok, but I have to be honest; it is intimidating to be in a part of the world that not only does not speak or understand English, but that uses a completely different alphabet, based on Sanscrit. The Thai areas don't have any signs that I can read, and while it is exotic, after just a little bit of trying to buy lunch in such a place, panic finds its way into your mind and you begin to search for something, anything familiar. Sukhumvit has english language translations on road signs, stores and even on merchandise. There are even Starbucks.
So we'll probably take a less adventurous path to our lives in Bangkok, but it is still Bangkok and there will be adventure to spare, so I think it will continue to be fun.
Gotta go for now.
sa wat de krop
oVo